First, we want to "Thank You" for visiting our online store.
We hope our gifts bring you and yours a sense of peace and comfort
Here are a few things that may make ordering easier
First, please check our list of "Patron Referral Stores" . You may find there is a store in your local area. Please give them a call to be sure they can help you, and let them know we encouraged you to contact them.
If there isn't a store in your area, and you are going to order online, please note the four BUTTONS below the ITEM NAME after pressing the BUY ME button. They will help you navigate through the ordering process. Please note: when you enter a quantity the Update Quantities button must be clicked.

We are sorry that engraving is not available through this web site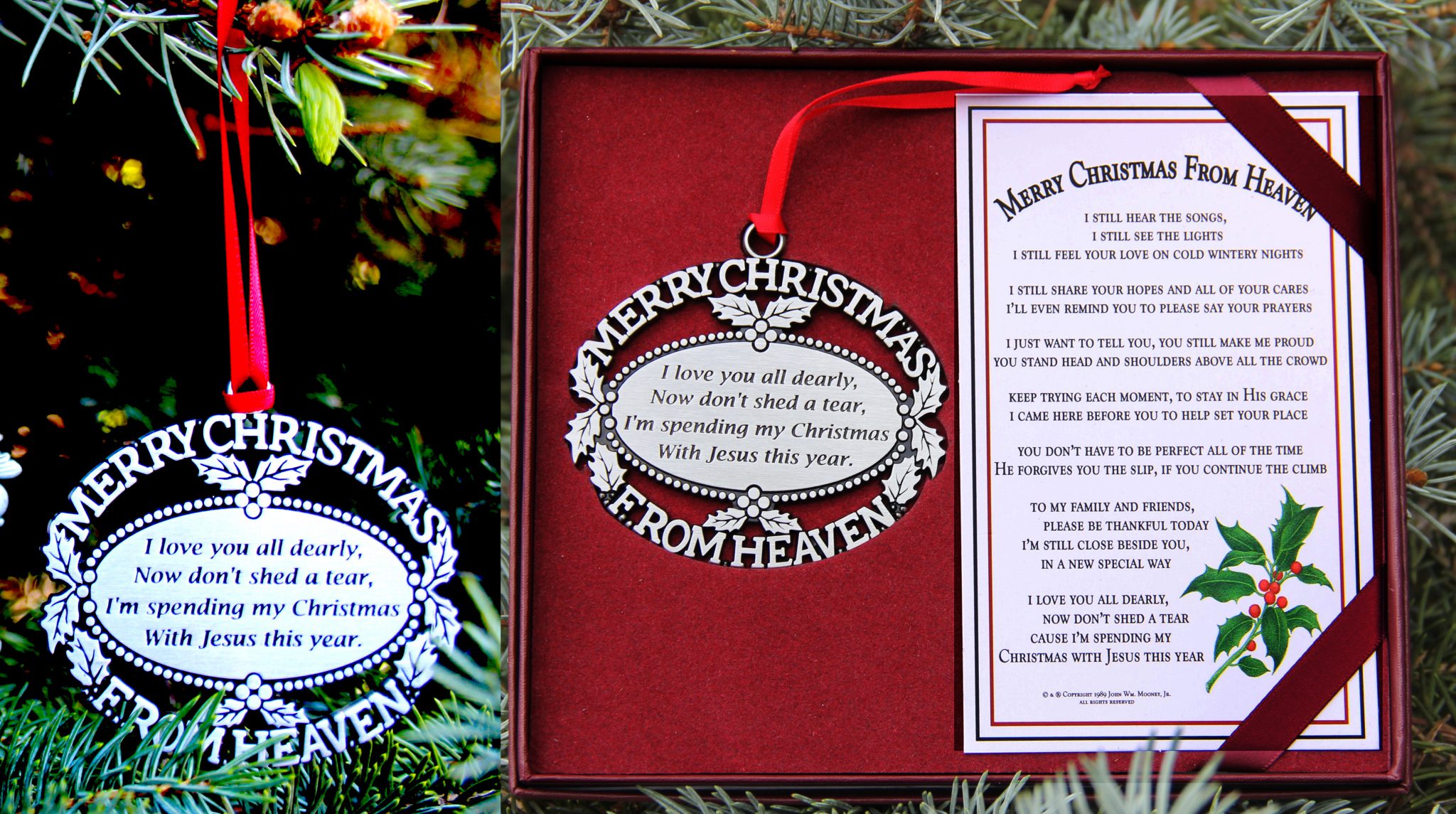 Our Pewter Finish Ornament and Bookmark Click here for more detail
$19.95
Item #OBM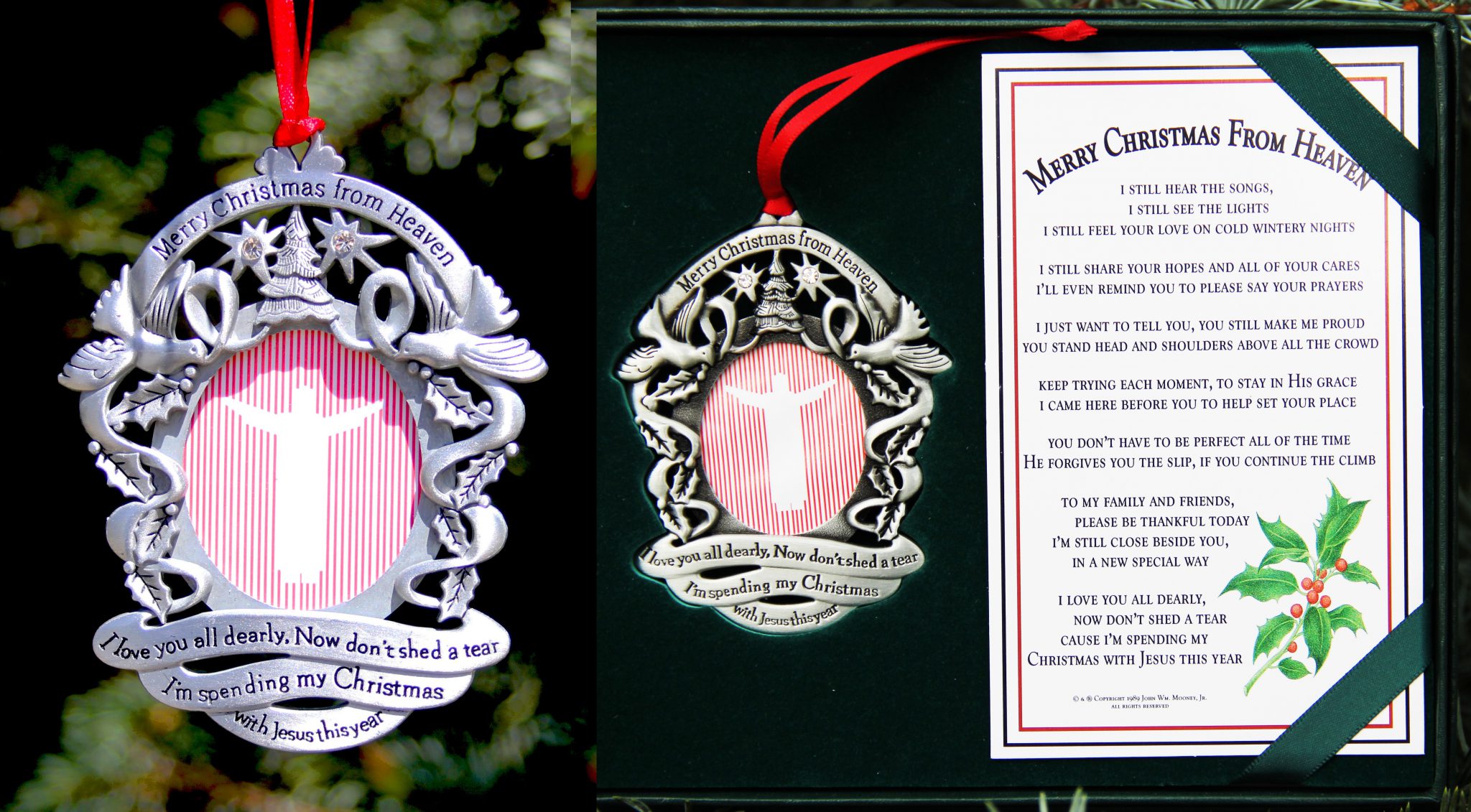 Our Pewter Finish Remembrance Ornament
and Bookmark Gift Boxed
$21.95
Item #robm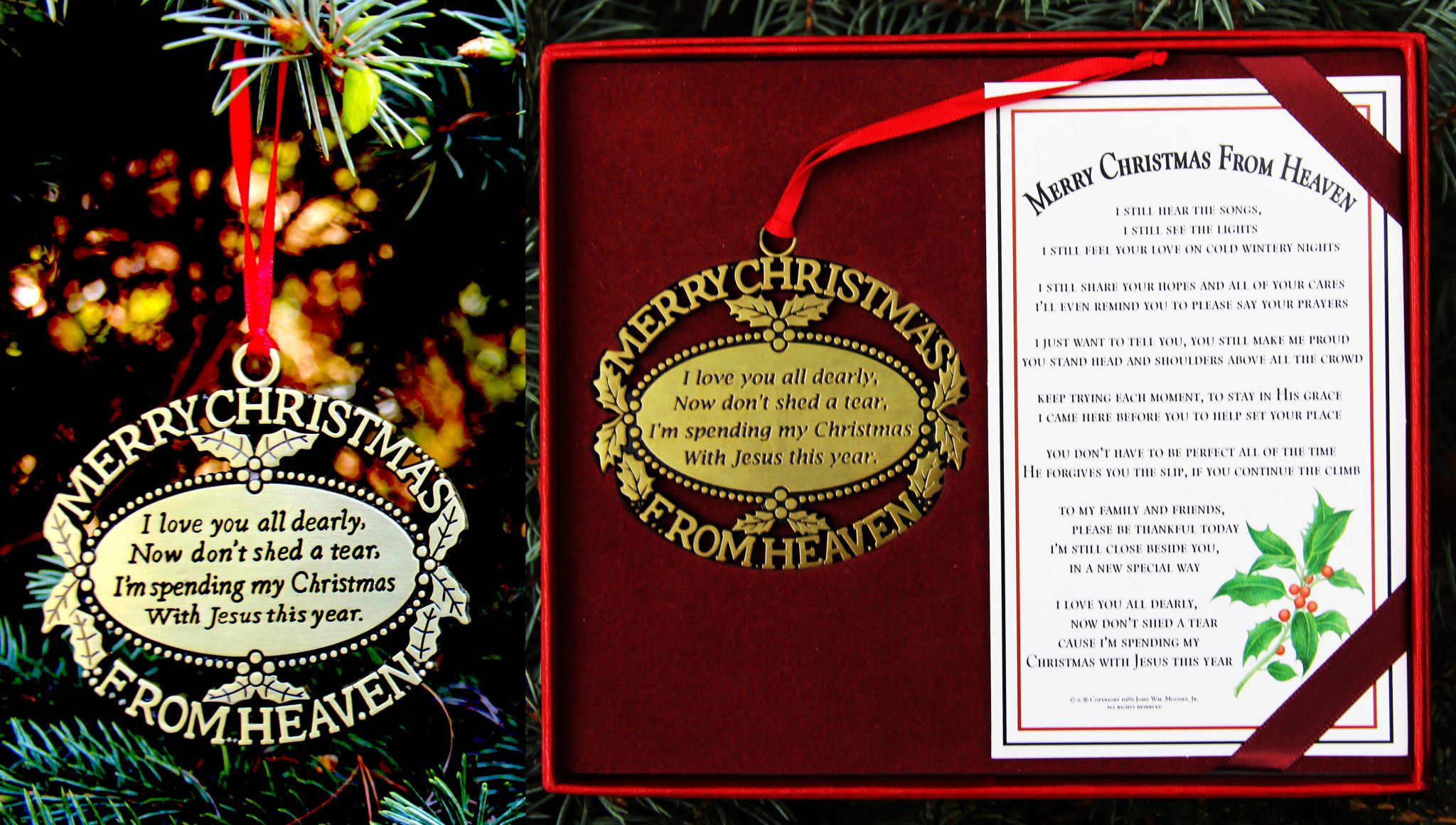 Our Gold Ornament and Bookmark
Gold Tone Finish
$22.95
Item #gobm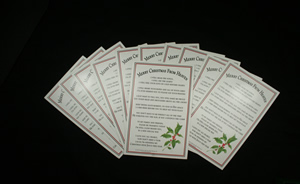 Merry Christmas from Heaven Bookmark
The Bookmark is just a little larger than the original but the print is bigger and easier to read.
Pack of 25 Bookmark
$25.00
Item #pc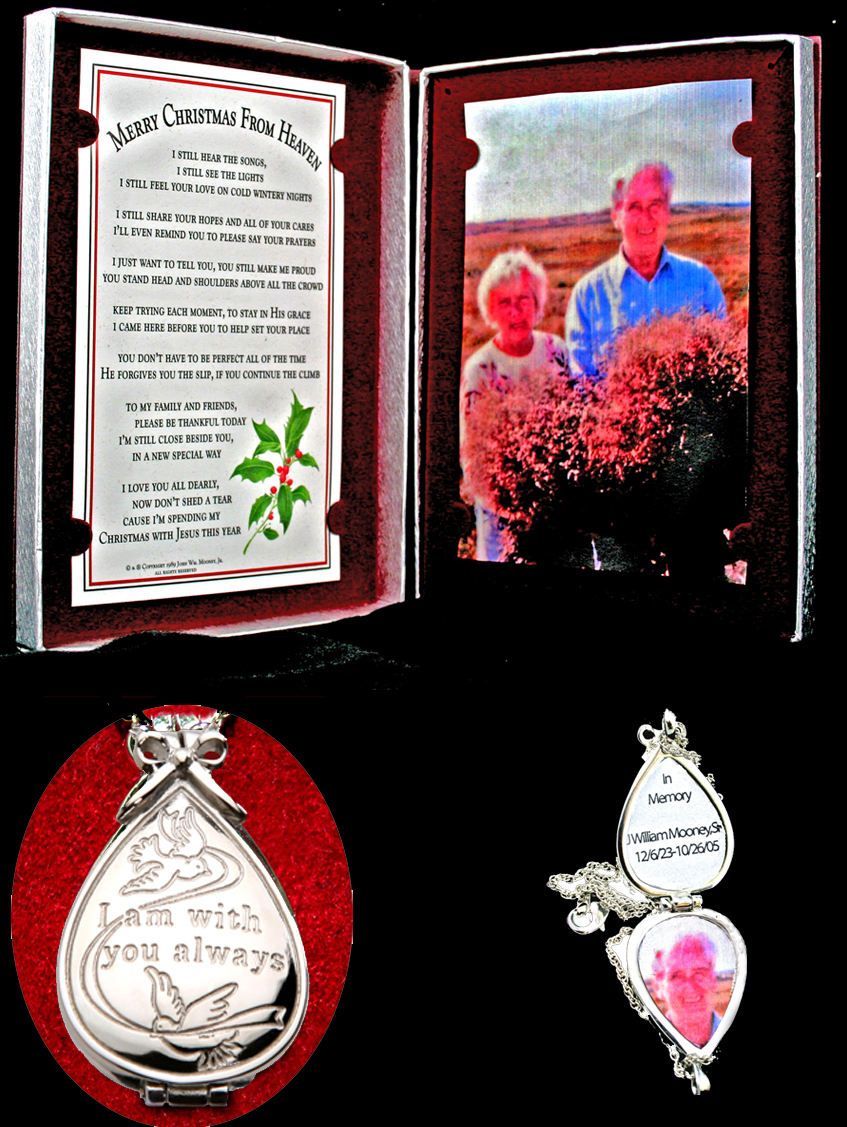 Our Keepsake Locket and Bookmark in our Beautifully designed Memory Box
$29.95
Item #kl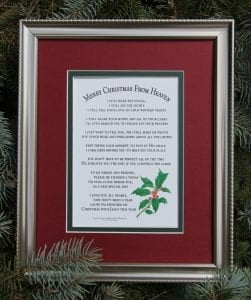 PLEASE NOTE THE DESCRIPTION BELOW
8 x 10
Frame Double Matted in Red/Green
$22.95
Item #11f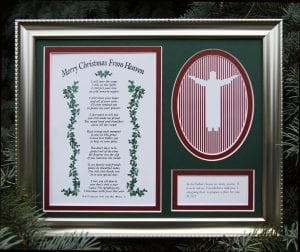 PLEASE NOTE THE DESCRIPTION BELOW
8 x 10
Remembrance Frame Double Matted in Green/Red
The mat allows you to place your loved one's picture and
a written or engraved message underneath the picture.
$24.95
Item#12fr
>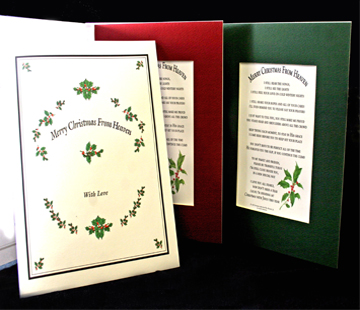 Our 8 x 10 Card Version fully matted in
Red or Green and ready for framing
$11.45
Item#11CF W/ Brick Red Mat


$11.45
Item #12CF W/Hunter Green Mat 

Envelope For Cards  8.5 x 10.5
$.40
Item #env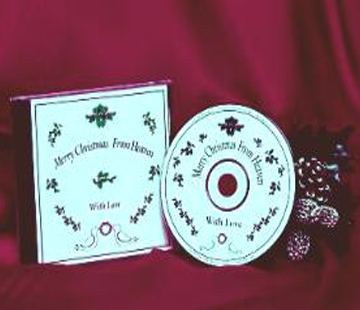 CD of Original Music
Click here to hear sample
$8.95
Item #CD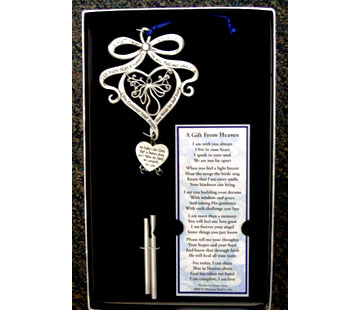 Our Gift From Heaven Wind Chime in Pewter
Wind Chime with Bookmark beautifully Gift Boxed
A brief history about  the poem "A Gift From Heaven"
"A Gift From Heaven"
was written after
the passing of a family member shortly after
her birth. Inspired by the beautiful service, and
the love and faith of her cousin, my daughter,
Kristan, began writing down her thoughts and
with the help of her family wrote:
"A Gift From Heaven"
The words brought a sense of love and peace,
and we hope you, too, will sense that God has
taken your loved one's hand, and now,
They are Complete.
They are Love.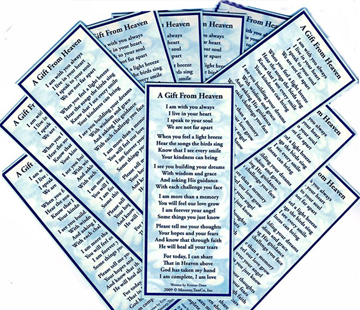 Our Gift from Heaven Book Marks our Gift From Heaven Book Marks (5″x 2 1/8″) Pack of 25 Bookmark
$25.00
Item #gpc

Thank you for taking the time to visit our website. We hope our sharing of Merry Christmas From Heaven ® and A Gift From Heaven © bring your and yours a sense of peace and comfort.
Our Family's Warmest Wishes,
Jean Mooney